Unveiling Africa's Lithium Wealth: A Rising Contender in the Global Supply Chain
The African continent is gaining significant attention as a global hotspot for valuable mineral resources. As the global energy transition gains priority among countries worldwide, the demand for lithium is rising as it has become a critical component needed for battery material production in the rapidly growing electric vehicle (EV) industry and renewable energy sector. African countries are well-positioned to capitalize on this opportunity.
While Africa still represents a relatively small and undeveloped lithium producer, except for Zimbabwe, recent discoveries are positioning Africa as a major contender in global lithium supply chains. Reserves of lithium have been discovered throughout the entire African continent with Zimbabwe, Namibia, Ghana, the Democratic Republic of the Congo (DRC), Mali and Ethiopia, all having notable supplies. The price of lithium has skyrocketed. In May 2022, the price was seven times higher than it was at the start of 2021.
Africa's involvement in the lithium supply chain aligns with the broader goal of decarbonization. As EVs gain traction worldwide as a cleaner transportation option, access to a reliable and sustainable supply of lithium from Africa will be crucial in scaling up EV production and reducing carbon emissions. By employing their lithium reserves and developing sustainable mining operations, Africa can contribute to meeting the global demand for EV batteries and supporting the transition towards a greener future.
Zimbabwe
Zimbabwe has been mining lithium for 60 years. Most of the production comes from the country's biggest mine, the Bikita Mine that it's Chinese-owned, which is estimated to hold up to 11 million tons of lithium. Other lithium future projects in Zimbabwe include the Zulu project, the Arcadia project and the Kamativi project, with indicated resources of 20,1 million tons, 42.3 million tons and 26.3 million tons, respectively. The country is currently the world's sixth largest producer of lithium, and the International Trade Administration projects that once it fully exploits its known resources Zimbabwe could potentially meet 20% of the world's demand.
Namibia
Namibia is actively exploring its lithium potential. While Namibia currently does not produce significant amounts of lithium, outstanding projects such as the Helikon and Rubicon prospects, located in the central and southern regions of the country, have an estimated resource of 7.72 million tons and 11.3 million tons, respectively, with the potential to produce a combined total of up to 680,000 tons of lithium concentrate per year.
Democratic Republic of Congo
The Democratic Republic of Congo lithium potential has also garnered the attention of global mining companies. The vast reserves in the Katanga region, combined with the country's existing mining infrastructure, put the DRC as a key player in the global lithium market.
Ghana, Mali and Ethiopia
Ghana possesses significant lithium resources, showing promising prospects for future lithium mining operations. Mali also hosts significant lithium reserves. Although the country currently does not produce significant quantities of lithium, the Bougouni Lithium project is expected to reverse this trend. Ethiopia has recently emerged as a potential lithium hotspot. The country's vast lithium deposits, found mainly in the Tigray region, hold promise for future lithium extraction and production.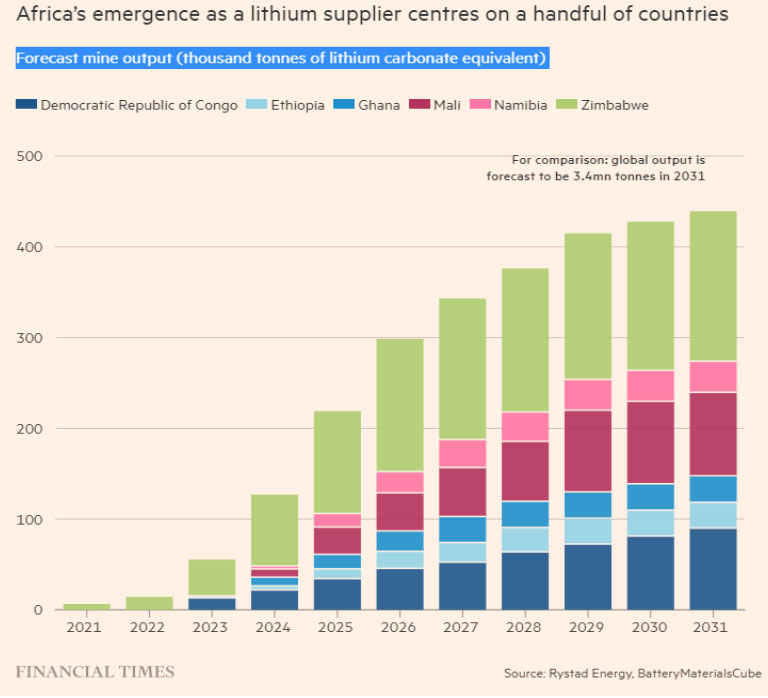 Lithium Supply and Demand Outlook: A Roadmap to 2030
According to "Fastmarkets", a trusted cross-commodity price reporting agency in several sectors, such as metals and mining, the only way is up for lithium demand. Electric vehicle (EV) demand will continue to drive the lithium market forward: EV penetration is expected to reach 15% in 2025, and we expect to see it rise to around 35% by 2030. Add to that mix growing demand from applications such as energy storage systems (ESS), 5G devices, and Internet of Things (IoT) infrastructure.
The underlying market fundamentals for lithium are straightforward: Increasing and sustained demand will strain supply through 2030. Between now and 2025, supplies from current and planned projects are expected to come online to meet demand; and from 2025 to 2030 new supply sources must come online to support demand.
Looking ahead to 2030, rapidly growing demand will test the market's ability to expand supply and reduce lead times. But probably the market will ultimately respond, and demand will calibrate to available supply.
A total of 345,000 tonnes of processed lithium were produced in 2020, dominated by resources from the lithium triangle and Australia. Lithium production must quadruple between 2020 and 2030 to meet growing demand, from 345,000 tonnes in 2020 to 2 million tonnes in 2030 – Lithium mines produced an estimated global total of 130 million tons in 2022, and 82,5 million tons in 2020 (these last two being brut figures).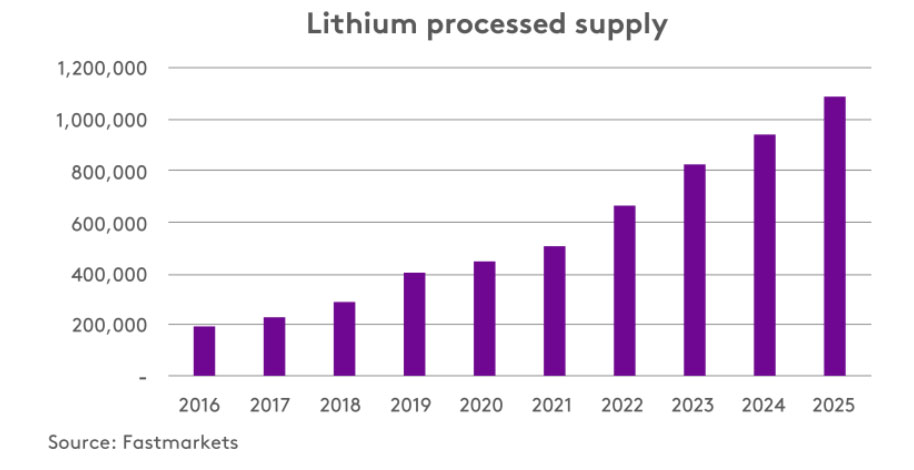 China's Strategic Pursuit: Securing Africa's Lithium Resources and Shaping the Global Market
China imports massive quantities of vital natural resources from sub-Saharan Africa. These include oil, liquefied natural gas, timber, gold and copper, uranium, and precious base metals such as cobalt and lithium.
In recent years, China has adopted a strategic approach in securing its position as a major player in the global lithium supply chain. One key aspect of this strategy is acquiring contracts in African countries and gaining control over lithium mines. This approach allows China to secure the necessary raw materials for its burgeoning electric vehicle (EV) and renewable energy industries while applying influence over the lithium market. This not only guarantees a consistent supply of lithium for its domestic industries but also gives China control over the production, pricing, and distribution of lithium on a global scale. This control enables China to influence market dynamics and potentially gain a competitive advantage over other countries reliant on lithium imports.
China's approach of acquiring contracts in African countries also involves providing financial and technical support for mining operations. This allows China to establish strong economic ties with African nations and contribute to their infrastructural development. In return, China secures long-term access to lithium reserves and establishes a mutually "beneficial" partnership. African nations can eventually leverage these partnerships to develop their own lithium industries, foster technology transfer, and maximize the socio-economic benefits associated with lithium mining and processing.
In conclusion, China's relentless pursuit of Africa's lithium resources has positioned it as the frontrunner in the race for global lithium dominance. Through strategic investments in mining operations and battery manufacturing facilities, China has solidified its hold on Africa's lithium reserves. However, China's dominance in the lithium world race poses several implications for Africa and the global economy. While the African continent's lithium resources present tremendous opportunities for economic growth and infrastructure development, there are concerns about potential resource depletion and exploitative practices. African nations must carefully navigate their partnerships with China, ensuring fair terms, responsible extraction, and equitable distribution of benefits.
Western Countries Embrace Sustainable Partnerships for Africa's Lithium Resources
More than just lithium is at stake. From Brussels to London to Washington, concern over access to critical minerals is at an all-time high after Russia's invasion of Ukraine and amid escalating tensions between the west and China. The People's Republic has built a dominant position in many of the minerals that are crucial for the energy transition, including lithium and rare earth metals. The west is preparing to spend hundreds of billions of dollars to try to catch up.
In the race to secure lithium resources in Africa, Western countries have often been criticized for their "failing" strategy compared to China's aggressive approach. However, there is a growing recognition of the need to adopt a different model—one that emphasizes partnerships based on environmental, social, and governance (ESG) principles and sustainability criteria.
This shift is driven by the understanding that sustainable development and responsible resource extraction are crucial for the well-being of both local communities and the planet. Western countries are investing in infrastructure, technology transfer, and capacity building to support the development of the local lithium industry in Africa. By sharing expertise and promoting sustainable mining practices, these countries aim to ensure that lithium extraction aligns with environmental standards and respects the rights of local communities.
The Western strategy also emphasizes the importance of social and economic development alongside resource extraction. It seeks to create value for African nations by fostering job creation, skill development, and local participation in the lithium value chain. By integrating ESG principles into their partnerships, Western countries aim to contribute to the socio-economic growth of African countries while minimizing negative environmental impacts. They are implementing transparency measures and certification programs that trace the origin of lithium, ensuring it comes from ethical and environmentally conscious sources. This not only safeguards against environmental degradation but also addresses concerns about human rights violations and child labor in the mining sector.
INCONCRETO, as an international consultancy, can provide expertise in capital project optimization in the mining sector.
Connect with our team!
We combine technical expertise with large program execution practices, improving predictable outcomes and steering profitability on Capex/Opex project investments.

For further readings, you may consult these sources:
https://energycapitalpower.com/lithium-africa-developments-future-outlook/
https://www.cnbc.com/2023/03/09/is-the-us-falling-behind-china-in-africas-lithium-industry-.html
https://www.reuters.com/markets/commodities/africa-gears-up-keep-more-profits-lithium-boom-2023-02-09/
https://www.fastmarkets.com/insights/lithium-supply-and-demand-to-2030
https://www.reuters.com/world/africa/popes-visit-shine-spotlight-war-ravaged-dr-congo-2023-01-31/
https://www.nsenergybusiness.com/projects/bougouni-lithium-project/
https://blogs.lse.ac.uk/africaatlse/2022/11/04/what-is-chinas-investment-end-ga