Located in the southern part of Africa, Zimbabwe is a former colony of the British Empire that gained fully independence in 1980. It is a relatively small state within the African continent, with an overall population of approximately 14 million people.  
Zimbabwe is recognized as the leading African country in terms of lithium reserves, making it one of the most significant players at the international level. The country's primary lithium reserve, the Bikita Mine, holds the largest known reserves and is currently being actively exploited. However, ongoing exploration efforts are expected to reveal even higher levels of reserves. Additionally, Zimbabwe is home to the largest number of projects in Africa aimed at expanding the total production of lithium, taking advantage of the potential for further growth in the current reserves.
Such dynamism allows the country to project itself as an essential playmaker in progressing energy transition through the supply of lithium and related products, whose demand is constantly increasing.
This is the striving ambition of the Government of Zimbabwe, which has established a national agenda to grow the entire lithium value chain. The ultimate goal is to become the most valuable African lithium hub, capable to secure that not only the extraction of lithium but also its transformation and application in batteries is fully put in place locally.
The country is already positioning itself as an independent key actor in the lithium industry, thanks to aspiring policies and the influx of new investment from China meeting the rising global demand for this metal.
Lithium Production in Zimbabwe: The Dominance of Chinese Companies
In Zimbabwe, lithium is mainly extracted from minerals such as spodumene. The country has a long-lasting history of mining lithium and trading such minerals worldwide, thanks to its abundant reserves,
As highlighted in our recent publication, today's national statistics indicate that lithium exports constitute 60% of total exports, being therefore particularly critical to Zimbabwe's economic growth. With an aggregate estimation of 12 billion dollars for the industry according to the government analysis, the mining sector accounts for 11 % of the gross domestic product.
After falling from their extreme highs in 2022, lithium carbonate prices have begun to gradually rise once more, and even if the long-term forecast – by 2027 – and its effects on battery pack costs point to a price decline, lithium remains a clear source of economic growth. It is estimated that if Zimbabwe fully exploits its reserves, the country could supply 20% of the world's lithium demand, therefore generating development and prosperity.
This is the direction that has been pursued over the last years, looking for a clear strategy to become a key player in the lithium market worldwide.
The attempt to enter this global market is deeply linked to the interest aroused by the potential of Zimbabwean lithium supply. Such a combination has rapidly opened the path toward the establishment of numerous alliances with Chinese companies, which are at the heart of the lithium projects in the country.
China is indeed the world's largest importer of lithium and at present the leader in the global lithium supply chain. Like elsewhere in Sub-Saharan Africa, in Zimbabwe, Chinese investors have established joint ventures with local and governmental organizations for the specific goal of utilizing lithium.
As of 2023, it is projected that at least 10 billion US dollars have already been put on the table to be invested in the different lithium existing and developing projects in the country over the next three years, making China the leading partner for their achievement. Here follow two concrete examples of such a lithium alliance between Zimbabwe and China.
Bikita Lithium Mine
Bikita Lithium Mine currently represents the biggest lithium production in Zimbabwe, being also home to the world's largest-known deposit of this metal, at approximately 11 million tonnes.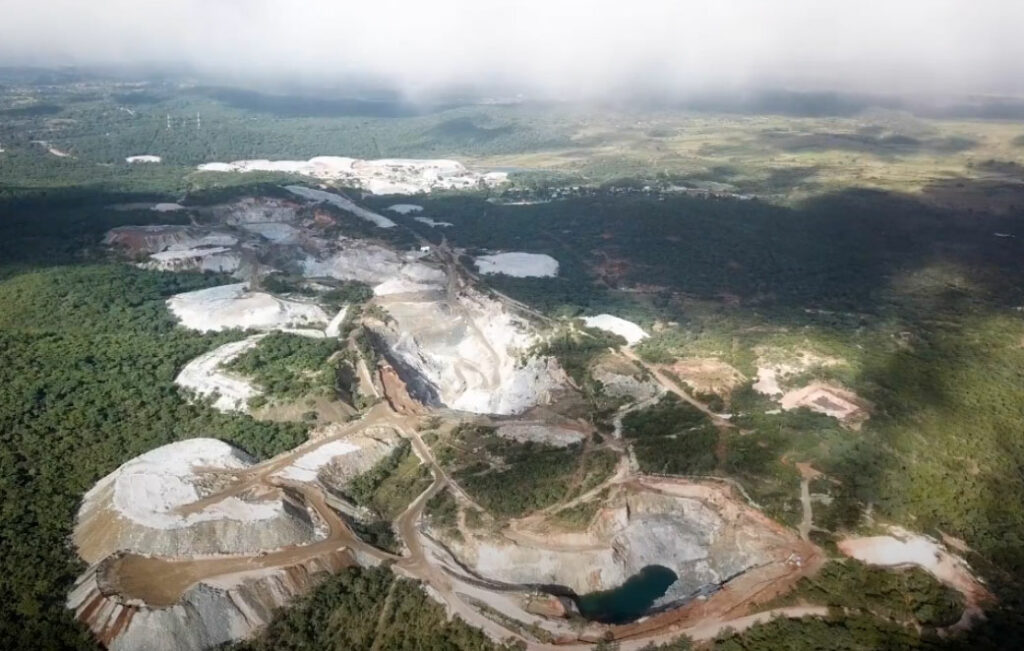 Located in the Bikita hills of the Masvingo area in southeastern Zimbabwe, 325 kilometres south of the capital Harare, the mine has been active since 1950 for the extraction of petalite, a lithium mineral used in the ceramic and glass industries.
China's Sinomine Resource Group, also known as China Mineral Resources, recently acquired the entire area for 180 million US dollars. The Chinese company, in close collaboration with the Zimbabwean Government, plans to expand the existing operations, increasing the mining and processing capacity up to 1.2 metric-tonnes per annum (Mtpa) by the end of 2023. In addition, this Shenzhen-listed group initiated a 200 million US dollar project to build an innovative lithium plant dedicated to a new ore production line with a 2Mpta capacity.
China's Sinomine Resource Group is also exploring other potential initiatives to strengthen its dominance in the lithium market in Zimbabwe. In 2022, the group signed a 5 million US dollar joint venture with Shenzhen Chengxin Lithium Group to enhance cooperation on lithium mine projects.
The firms stated that this collaboration is consistent with their primary business development trajectories, with the potential to increase profitability and enhance competitiveness in the lithium-based new energy market for both parties.
Arcadia Lithium Project
Located near the Zimbabwean capital city, Harare, the Arcadia Lithium Project is one of the world's biggest hard rock lithium assessed resources, whose estimates amount to up to 42.3 metric-tonnes.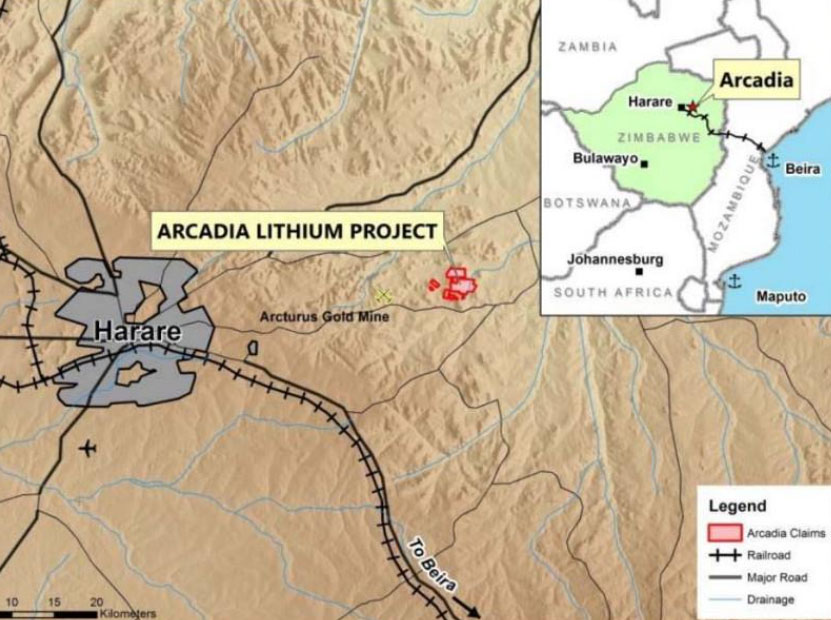 The mineralisation at the Arcadia deposit is primarily made up of petalite and spodumene, with secondary minerals including eucryptite, bikitaite, lepidolite and tantalite. The project is situated within the greenstone rock units of Arcturus formation, which is part of the Harare Greenstone Belt (HGB). The HGB is known for its rich gold deposits and is considered one of the oldest and most important gold mining regions in Zimbabwe.
Originally, this lithium project was fully owned by Prospect Resources, through its subsidiary, Prospect Lithium Zimbabwe (PLZ). In 2019, the mine produced an average of 212 kilo-tonnes per annum of spodumene and 216ktpa of petalite, while in December that year, the company released an updated definitive feasibility study (DFS), foreseeing a capital investment of 192.46 million dollars to scale up the extractions of lithium in the area.
The project involved a large bunch of stakeholders which were associated to ensure the full preparation of its development and deployment. These included Australian-based engineering consulting business Lycopodium prepared the plant design and review, as well as the plant capital and operating cost estimates, and BioMetallurgical Zimbabwe (BMZ), a mining and engineering company, and engineering international firm Hatch were engaged to prepare pre-feasibility studies.
Subsequently, the Chinese group Zhejiang Huayou, one of the world's biggest producers of cobalt, acquired controlling rights to Zimbabwe's Arcadia Lithium Mine from Prospect Resources, an Australia-listed company, and its Zimbabwean partners. The deal, signed in 2022, amounted to 422 million US dollars. After the transaction, Zhejiang Huayou announced plans to invest 300 million dollars in constructing a plant to process 4.5 million tonnes of lithium ore at Arcadia.
Earlier this month, Zhejiang Huayou commissioned a lithium concentrator in Zimbabwe, willing to consolidate its position as one of the world's leading battery materials producers.
Initiatives in favour of new lithium projects in Zimbabwe, often with consistent Chinese investments, include other projects as shown in the following map.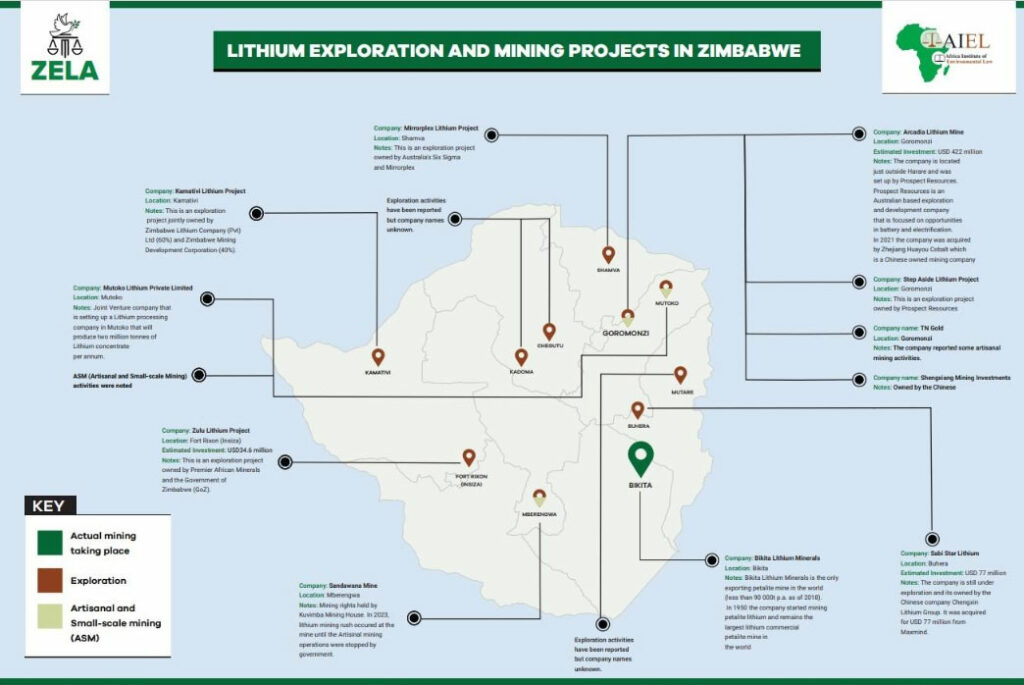 The Exploitation of Lithium in Zimbabwe: Aspiring for a Local Lithium Value Chain
In December 2022, Zimbabwe enacted the Base Mineral Export Control Act, whose main purpose is to ban the export of raw lithium and promote the development of a robust lithium industry within the country. The growing global demand for electric vehicles, powered by lithium batteries, has led to a surge in lithium demand. The Government of Zimbabwe is determined to capitalize on this opportunity to enhance its earnings.
This policy aligns with the nation's Vision 2030 economic plan, which seeks to drive industrialization and transform Zimbabwe into an upper-middle-income economy with a GDP of 65 billion US dollars and a per capita income of 5,000 US dollars or more within the next ten years.
If Zimbabwe succeeds in creating a solid lithium industry covering the entire value chain, from extraction to transformation and processing, this will result in a significant advance of the country's economy, also providing Zimbabwean citizens with new job opportunities.
To fulfil this promise, the Zimbabwean lithium industry must overcome several obstacles to become part of the global supply chain. One key challenge is developing the necessary infrastructure, as a full-scale lithium hydroxide plant requires power, chemicals, and raw lithium for processing. At present, there is only one lithium processing plant in Zimbabwe: it opened this year at the Zulu Mine with the support of China's CanMax Technologies.
The alliance with Chinese investors is a significant asset that Zimbabwe is using to leverage its strategy. In this framework, companies that are already involved in mining or processing projects in Zimbabwe are exempt from the recent export ban. This includes Chinese firms Zhejiang Huayou Cobalt, Sinomine Resource Group, and Chengxin Lithium Group: together they have made substantial investments totalling 678 million US dollars into lithium projects in Zimbabwe.
It will be interesting to observe if the Western approach, based on ESG principles and fostering job creation, skill development, and local participation in the lithium value chain, will have any chance to become considered in Zimbabwe, challenging the current Chinese dominance.
INCONCRETO, as an international consultancy, can provide expertise in capital project optimization in the mining sector.
Connect with our team!
We combine technical expertise with large program execution practices, improving predictable outcomes and steering profitability on Capex/Opex project investments.

For further readings, you may consult these sources:
Zimbabwe bets on Lithium to boost mining sector and economy, by Business Insider Africa
Zimbabwe: a Burgeoning Lithium Hub, by Energy Capital Power
Zimbabwe's Lithium: The Future of an ailing Economy?, by African Liberty
How China is winning the race for Africa's lithium, by Financial Times
Why all eyes are on Zimbabwe's lithium industry, by CNBC
Lithium Mining in Zimbabwe on the rise, by Mining Zimbabwe
Bauxite en Indonésie, lithium au Zimbabwe… Le nationalisme des ressources a le vent en poupe, by L'Usine Nouvelle